Hygienic Air Handling Units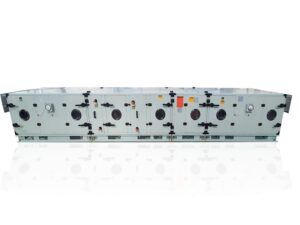 Nowadays, when the fight against the virus is of great importance, the importance of air handling units used in the ventilation of hygienic spaces has become even more important. Ventilation systems operated in centres such as hospitals, drug production facilities or gene laboratories, which play a critical role in the fight against the epidemic, must meet all the criteria specified in DIN 1946-4 at the highest level.
Compliance with Current Hygiene Standards
Üntes undertakes this responsibility at the highest level with all the products it has been producing since 1968. With the awareness of our responsibility, especially in hygienic air handling units, we would like to emphasize that our product fully complies with the updated hygiene standards. Our hygienic air handling units have been tested in accordance with DIN 1946-4: 2018 and VDI 6022-1: 2018 standards in the TÜV NORD Systems GmbH Laboratory and have met the specified criteria at the highest level
The relevant standards also require hygienic air handling units to provide certain mechanical and thermal performance classes according to EN 1886: 2009. Our air handling units are above the specified limit classes according to EN 1886: 2009.
Kullanılan tüm plastik parçalar ISO 846 Standardına göre mikrobiyolojik üremeye izin vermeyen malzemelerden üretilmiştir.
Bununla birlikte, hijyenik klima santrallerinde kullanılan tüm plastik parçalar ISO 846 Standardına göre mikrobiyolojik üremeye izin vermeyen malzemelerden üretilmiş olmalıdır. Klima santrallerimiz yine bu kriteri de başarıyla karşılamakta ve içerisinde mikrop üremesi riskini ortadan kaldırmaktadır.
İlgili standartlar gereği, yapılan testler sonucunda; klima santrallerimizde kullanılan contalar ve sızdırmazlık malzemeleri dâhil olmak üzere, tüm bileşenler ve malzemeler sağlığa zararlı olmayıp, koku, zararlı madde yayılımı ve mikro organizmalar için besleyici bir ortam oluşturması gibi riskleri de taşımamaktadır. Yine klima santrallerimizde hava akışı ile temas eden malzemeler dezenfektanlara (mikrop öldürücü madde) karşı dayanıklı bulunmuştur.
Yukarıdaki hususların dışında, yine standartta tarif edildiği gibi;
• Hijyenik klima santrallerimizin iç yüzeyleri kolay temizlenebilmesi için düz ve pürüzsüz olup, girinti-çıkıntı oluşturmayacak yapıdadır.
• Üç boyutlu eğime sahip olan yoğuşma tavası sayesinde, santral içerisinde su birikimine izin verilmez. Standardın gereksinimi olan %95 oranında tahliye istemi, %99 oranıyla sonuçlanmıştır.
• Filtre yerleşimleri ISO 16890 standardına göre yapılır ve en üst düzeyde filtre bypass kontrolü sağlayan filtre kasalarımızın tasarımı sayesinde, filtre değişimlerinde toz temiz hava tarafına geçmez ve filtreleri tutan mekanizma hava akışından etkilenmeden sızdırmazlığı garanti altına alır.